Celebrate these beautiful feast days to make your month spiritually rich.
July begins with the Feast of The Most Precious Blood of Jesus, setting the stage for the month devoted to the Precious Blood and filled with beautiful feast days. Our Blessed Mother and very inspiring saints are celebrated this month as well, making the month of fireworks a great one for summer celebrations filled with enlightening lessons of faith. Mark your calendars now!
July 1: Feast of the Most Precious Blood of Our Lord Jesus 
The devotion to the Most Precious Blood is deeply connected to that of the Sacred Heart of Jesus. It is the heart that pumps the blood throughout the body. In Jewish law one is not allowed to eat meat containing blood. In Scripture, The Book of Leviticus outlines special Kosher laws with precise ways to sacrifice an animal so that the heart keeps pumping and draining its blood. Jesus gave every drop of His Precious Blood unto the last beat of His Sacred Heart. This was the ultimate sacrifice to the Father.
A wonderful way to increase devotion to the Precious Blood is by doing a Consecration to His Sacred Heart. This month is a perfect time to begin the 33-Day Consecration. This one, available online, sends free daily emails for each day of the Consecration, complete with prayers, reflections, beautiful Catholic works of art, music, and even a daily podcast… directly to your inbox. These guided daily devotions take little time (9 -14 minutes total). They will aid and inspire us to better prepare our hearts for Jesus and honor His Most Precious Blood. Sign up here.
July 5: Adore the Lord and give thanks with St. Anthony Mary Zaccaria
A less-famous saint than some, St. Anthony Mary Zaccaria is a wonderful one to get to know better, and adopt as one of your patrons.
St. Anthony Mary Zaccaria was a physician and a leader of the Counter-Reformation. He modeled himself after St. Paul and so it is no surprise he had a fiery and zealous faith. An accomplished man, he was both a doctor and a priest, so we can confidently bring all our physical and spiritual needs to him as we seek his intercession. He is known as one of the founders of the Forty Hours Devotion, a solemn exposition of the Blessed Sacrament for adoration. St. Anthony Mary helped to popularize this devotion for the laity. He also revived the custom of ringing church bells at 3:00 p.m. to honor the moment of Christ's death on the cross.
Following this example, why not set your cell phone alarm to ring out at 3:00 p.m. as a call to prayer such as the Divine Mercy Chaplet. To honor this patron saint of physicians, consider sending an email or card of thanks to your family doctor. And, since St. Anthony Mary was devoted to the Blessed Sacrament, find a special way to honor Jesus, present in the Eucharist, this week. Find a church near you that offers Eucharistic Adoration and plan to go. You'll find that Jesus, the Divine Physician, will work wonders on your soul, just by being in His Presence. Whatever the problem, no matter how great, the Eucharistic Lord can bring it to grace. Whatever work you worry about not getting done during your time spent in Adoration, you will see that everything will "work out." Here's a good prayer for the day:
Prayer to Saint Anthony Mary Zaccaria
Saint Anthony Mary Zaccaria, helper of the poor and the sick, you who devoted your life to our spiritual welfare, listen to my humble and hopeful prayer. Continue your work as doctor and priest by obtaining from God healing from my physical and moral sickness, so that free from all evil and sin, I may love the LORD with joy, fulfill with fidelity my duties, work generously for the good of my brothers and sisters, and for my sanctification. Amen.
July 16: Feast and be formed with Our Lady of Mount Carmel
Today is a traditional day for Italians to feast (when isn't it?!) and there's many a summer festival/street party that includes an array of foods, rides, and fun dedicated by Italian-Americans to Our Lady of Mount Carmel, the title given to Our Lady as patroness of the Carmelite Order. The motto of the Carmelite order is: "With zeal I have been zealous for the Lord of Hosts," which is spoken by Elijah in 1 Kings 19:14.
Our Lady appeared to St. Simon Stock, an English Carmelite, and gave him the Brown Scapular, promising, "whosoever dies in this garment shall not suffer eternal fire." Today's a great day to start wearing the brown scapular, if you don't already. Best of all, many churches offer a Scapular Enrollment Mass on the feast of Our Lady of Mt. Carmel. To be officially enrolled in the brown scapular by a priest brings extra graces. You can ask any priest to enroll you and your family. Here's how.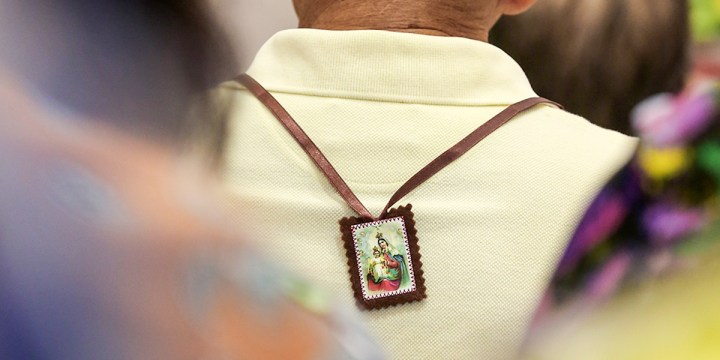 Immaculate | Shutterstock
And getting back to feasting, try making a traditional Italian meal of your choice and ending with a dessert featuring … what else? Caramel!
June 22: Love with extra beauty… and have tea with St. Mary Magdalene
St. Mary Magdalene is known for the way she loved the Lord "beautifully." The saint is often associated with a nameless, notorious woman who anointed the Lord's feet with a combination of an expensive perfumed ointment and her bitter tears of remorse. Some objected; but Jesus said, "Leave her alone! She has done a beautiful thing to me. She has anointed me with oil before my death."
What a model for us to not wait to send the cards and flowers until the funerals … but rather, to find ways to love with extra beauty and care while those we love are still alive. Who could you send a card or flowers to today … for no reason other than just to say I love you? Do so in St. Mary Magdalene's honor!
Legend says St. Mary Magdalene is buried in France, and the French are so devoted to this great saint that they even invented an amazing dessert named after her. Why not try your hand at making some madeleines for a tea honoring St. Mary Magdalene? You can bake or buy some and drop them off to someone who needs some extra love and support!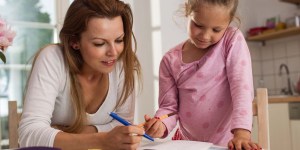 Credit: Source link